Fully utilize your ceiling fan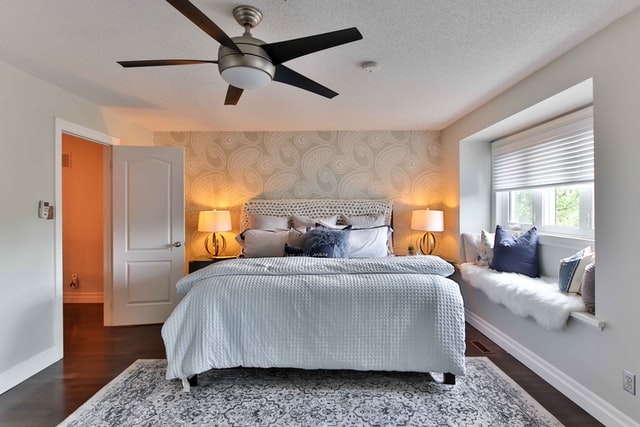 What is ceiling fan used for
A ceiling fan is a great way to circulate air in a room and can help to supplement heating or cooling. Ceiling fans come in a variety of sizes and styles, so be sure to choose one that is suited for your needs.
How to choose a ceiling fan according to your room
When choosing a ceiling fan, it is important to consider the size of your room. Fans come in a variety of sizes, so it's important to pick the right one for your needs. You'll also want to think about the style of your fan. There are many different styles to choose from, so you're sure to find one that fits your decor. Finally, you'll need to decide on the type of motor.
Types of ceiling fans
There are three types of ceiling fans: standard, hugger, and low-profile.
Standard ceiling fans are the most popular type. They have blades that hang down from the fan motor.
Hugger ceiling fans are designed for rooms with low ceilings. They have a shorter motor housing and blades that hug the ceiling.
Low-profile ceiling fans are for rooms with high ceilings. They have a longer motor housing and blades that project out from the fan.
Depending on the motors they use:
There are three types of motors used in ceiling fans: direct-drive, belt-drive, and chain-drive.
Direct-drive motors are the most common type. They are less expensive and more reliable than the other types of motors.
Belt-drive motors are more expensive than direct-drive motors, but they are more reliable and quieter.
Chain-drive motors are the least reliable type of motor. They are also the loudest type of motor.
Companies that produce the best ceiling fans
There are many companies that produce ceiling fans, but some of the best ones are Hunter, Hampton Bay, and Casablanca. These companies offer a wide variety of styles and sizes to choose from, and their fans are known for their quality and durability.
How to fully utilize the ceiling fan you have
There are a few things to keep in mind when using a ceiling fan:
Make sure the fan is turned off before changing the light bulb.
Keep the fan blades clean. Dust can build up and reduce the airflow.
Don't put anything on top of the fan blades. This can damage the fan and cause it to wobble.
Don't cover the fan with a curtain or blanket. This will reduce the airflow and could cause the fan to overheat.
How to bypass pull chain on ceiling fan
If your ceiling fan has a pull chain that doesn't seem to be working, there is a way to bypass it and make the fan work using the wall switch. This can be done by following these steps:
Turn off the power to the fan by flipping the circuit breaker off or removing the fuse.
Remove the canopy cover from the fan.
Locate the two wires leading to the pull chain switch.
Twist each wire around a screwdriver and then remove the switch from the fan.
Tape each wire to its corresponding connector on the new switch.
Reattach the switch to the fan and reattach the canopy cover.
Flip the circuit breaker back on and test the fan.
How to save up money when buying ceiling fan
When buying a ceiling fan, there are a few ways to save money:
Compare prices online. There are many websites that offer comparisons of prices for ceiling fans.
Look for sales. Many stores offer sales on ceiling fans periodically.
Buy a fan with a lower horsepower. A lower horsepower fan will be less expensive than a fan with a higher horsepower.
Choose a fan with a standard motor. Direct-drive motors are the most common type and are less expensive than belt-drive or chain-drive motors.