Laundry Room Countertops (Best Types & Materials)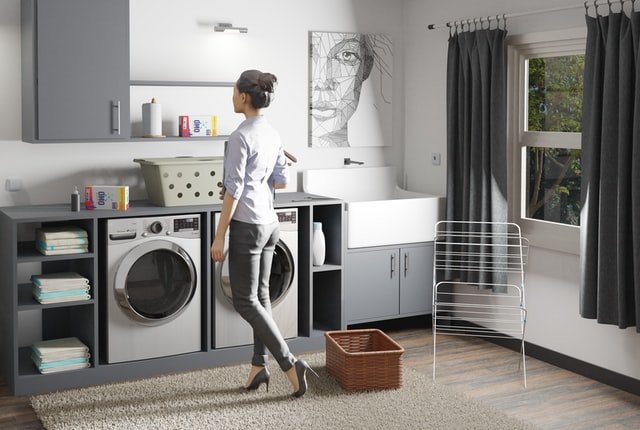 What's the best type of counter for your laundry room? It depends on the needs and style of your home or apartment. If you're a minimalist or like to keep things simple, then you might prefer a simply designed, narrow countertop. If you're a romantic and like to design your home, you might prefer a more elegant and custom design. If you like color, especially wood color, you might look for a gorgeous natural stain or a decorative black stain. If natural grays and whites don't fit your room's color palette, you might want to consider a neutral stain. If you love to entertain, you might want a countertop with a built-in drink trolley, which tucks away neatly under the counter. ~~
Even though the laundry room may be one of the smaller rooms in your house, you still need to make sure it has the right countertop materials. Choosing the wrong material could lead to broken dishes, chipped knobs, and even cracked counter tops. The best type of countertop material is one that's resistant to heat, can be sealed or can be sealed and cleaned.
When it comes to laundry room countertops, there are many options and materials available to you, but there are also benefits and drawbacks to each and every one. The materials and the amount of space actually used to store the laundry detergent and other supplies can differ from household to household. The key to success in this area is to find the right amount of space and the right type of material for your needs.
Here's the best types of laundry room countertops including stone, solid surface, butcher block, and laminate countertops as well as DIY ideas for the cheapest laundry room countertop options.
There are a few areas in the home that get a lot of action and require a lot of attention when it comes to organization and foot traffic. One of these spaces is definitely your laundry room area.
A well-designed laundry room with designated areas for treating stains, folding clothing, hanging clothes to dry, and even light ironing may make all the difference in your laundry handling experience, and here is where countertops come in useful.
Countertops for the Laundry Room
Here's a rundown of the various types of countertops so you can choose the one that's right for you and your house.
Countertops made of stone
Because of its ability to deal with clothes, stone countertops are excellent choices for laundry room worktops. The majority of this material is seam-free, flat, and smooth.
It won't snag or get in the way of even the most delicate textiles while folding or ironing them on the surface.
These countertops may also be quite long-lasting. Although stone worktops such as granite or quartz are often associated with kitchen countertops, they may also be helpful in the laundry room.
To begin with, it has tremendous aesthetic value. In your laundry room, stone countertops may dramatically alter the area, making it more welcoming and less dull. We understand that washing facilities don't attract a lot of attention, but consider this a more intimate kind of pleasure.
They may have marbling and come in a range of hues, depending on the stone you choose. You can certainly personalize the kind of stone countertop you want for your laundry room so that it blends in with the other colors and, as a result, the overall appearance and feel of the area.
It may be used as a special folding area, among other things. You'll be spending a lot of time in your laundry room, perhaps on a daily basis, so making sure it's visually pleasing can make all the difference.
Countertops Made of Solid Surface
Solid surface worktops have been available for more than half a century and are still a popular choice in bathrooms, kitchens, and yes, even laundry rooms. They fall in in the middle of the price scale, so if you're on a tight budget, this may be a good option.
Although it cannot match with the beauty of genuine stone countertops, they are unquestionably superior than laminate countertops.
Solid surface countertops are made of a solid substance that looks and feels like stone but isn't as porous. Because of its primary material composition, stone countertops are prone to cracking and fracturing, while solid surface counters are much more robust.
It's ideal for the laundry room since it's a high-traffic area that's prone to wear and tear, and if you do acquire a few scratches, you can simply fix them by sanding them down.
Laundry Room with Butcher Block Countertop
Butcher block countertops are made up of separate hardwood strips that have been put together to create a smooth and sturdy surface.
It is a popular material for kitchen counters, but it may also be a good choice for updating your laundry room. Its aesthetics have a rustic, farmhouse feel with warm undertones, and its modest burst of earthy color may brighten up the room.
It is one of the most cost-effective countertop choices available, so if you want to remodel your laundry room without breaking the bank, this is an option worth considering. What's wonderful about this countertop is that professional installation isn't required if you want to save even more money.
You have the option of doing it yourself. It isn't difficult to set up this system. If you need holes for sinks or other laundry room components, you'll need to cut the material to the exact dimensions you need and cut into the gaps using a circular saw.
A butcher block countertop may also be kept clean and shining with just the most basic household cleansers and polishes, making cleaning a breeze in the laundry room!
Countertops made of laminate
Laminate countertops provide a continuous and very smooth surface area. If the intention is to utilize it for sorting or folding clothing in the laundry room, it can certainly work.
It also comes in a variety of colors and finishes, allowing it to be very versatile in terms of aesthetics. They are a good option if you are looking to renovate your laundry room on a budget since they are inexpensive, and it is safe to say that laminates are the cheapest countertop materials available.
However, keep in mind that they may not be as long-lasting as other countertop materials. They may peel and flake, and you shouldn't use a hot iron on this surface since it will melt the laminate.
Its colors may fade with time, but if you're okay with replacing it after 5 years or so of heavy usage, this shouldn't be an issue.
Laundry Room Countertop (DIY)
A laundry room countertop is often an important component of the overall design. If you don't have the money for a professional renovation, you can certainly do it yourself with a few handy abilities.
You'll need wood pieces cut to the exact dimensions of the area where your laundry room countertop will be placed, as well as drywall anchors, various screws, a stud finder, a drill, and a level to ensure that everything is level and installed at the correct height.
A level also guarantees that your laundry room countertop isn't uneven or misaligned. A wood stain or paint of your choosing is an optional material to consider. Here are some of the most popular laundry room paint colors.
Keep an eye out for the depth of your washer and dryer. Because not all pairs are the same height, you should choose a level for your countertop that will support both of them. Add an inch or two to the height of the tallest set to account for your real countertop space.
The Best Laundry Room Countertop
We believe that the laminate and solid surface kinds will create the greatest countertops out of all of the choices available. Aesthetics, cost flexibility, availability, and durability are all taken into account.
Of course, if you have a high-end house, you should upgrade to higher-end materials like quartz countertops, but for the typical home, laminate and solid surface counters will suffice.
Countertop for the Laundry Room at a Low Cost
As previously said, the laminate countertop is the most cost-effective choice for a laundry room countertop. It costs about $10 to $30 per square foot, which is a lot less than, example, a stone countertop, which can cost anywhere from $50 to $100 or even more.
Visit our laundry room flooring collection for additional inspiration.
As the number of people who wash clothes in their home continues to grow, so does the number of options available to them. The countertop area of a laundry room is one of the most important areas in a home since it serves as a focal point for the space. Laundry rooms need to feel comfortable and inviting so that people will want to spend a great deal of time there.. Read more about laundry room countertop with sink and let us know what you think.
Frequently Asked Questions
Is laminate countertop good for laundry room?
Laminate countertops are a good option for laundry rooms because they are easy to clean and maintain.
What is the best type of countertop material?
The best countertop material is a type of granite called quartz.
What is the best countertop for heavy use?
The best countertop for heavy use would be a granite or quartz countertop.
Related Tags
This article broadly covered the following related topics:
laundry room countertop ideas
laundry countertop
laundry room countertop options
laundry room countertop with sink
laundry room countertop